In the industry we nicknamed those carpet ripples "speed bumps". And just like the bumps on the road designed to slow you down…carpet ripples do the same. And as time goes by, the ripples can get bigger and sadly, pose a trip hazard.
At All Clean, our professionals are trained to stretch the carpet back to normal and eliminate the ripples. We use special tools designed to flatten out the bumps and restore the carpet to like new condition again.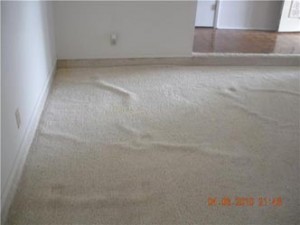 But what causes the speed bumps to appear?
Typically its due to improper installation. The carpet wasn't installed tightly to the tack strips. And once the carpet starts to become loose when heavy furniture is moved the carpet is pushed and pulled until bumps form.
The first thing that needs to be done is removal of the furniture so that the carpet can be re-stretched and re-installed properly. Any excess carpet is then trimmed. This gives the carpet a tight look without bumps or ripples.
If your carpet is experiencing ripples and you live in the Greater Cleveland area give us a call at (440)975-9000 today.